Classes
Courses/Workshops available to teach in the community:
The Artist Way takes 13 weeks but the other classes can be completed over 8 weeks or condensed into one-day intensives.
Caroline teaches many classes for The Alexandra Writers Centre – check their website to see what's coming up.
Breakfast Dialogue with Rod Hayward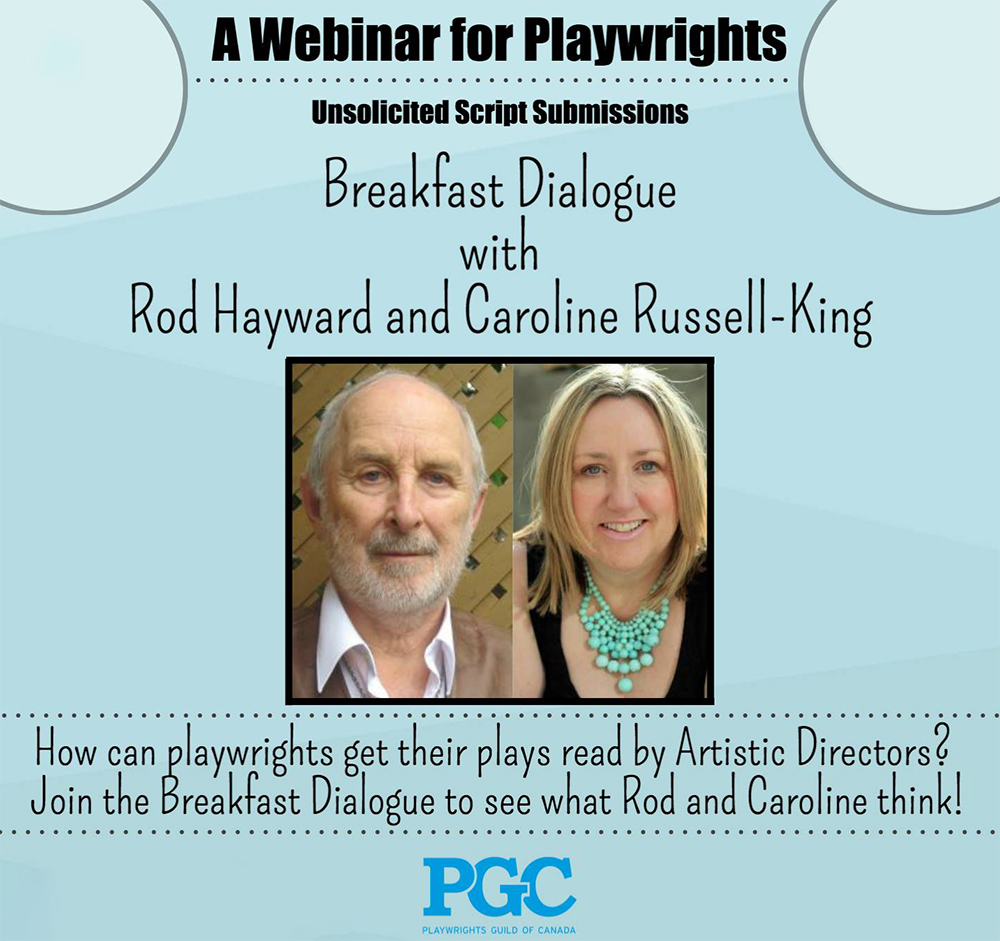 As an example of previous workshops I've offered. In 2016, I offered this webinar with Rod Hayward providing a discussion amongst Playwrights looking for feedback!
An Introduction for Playwriting
Join professional comedy playwright Caroline Russell-King, as you discover your playwriting chops. Learn how writing comedy is more than just one-liners and writing drama isn't just serious prose spoken by serious people! Pull out your idea file or your scribbles and come learn the craft of playwriting. Discover the secrets of professional writing and what it takes to get from page to stage!
Beyond First Draft – The business of being a playwright.
This workshop is for anyone who wondered what it takes to make the transition from part time to professional playwright. In this weekend workshop participants will discover what happens between first draft through to closing night and beyond. Strong emphasis will be placed on viewing the playwright not only as an artist but as an entrepreneur. Get tips on how to see your script as a product, negotiate commission and royalty contracts, get professional development, find other forms of income and market your scripts.
Writing Monologues for the Stage
Join Caroline Russell-King whose monologues have been published in such anthologies as The Perfect Piece, Another Perfect Piece and Short Spells and produced on stages all across Canada. Find out the writing tips for dialogue, monologues and soliloquies. This workshop can help you with your playwriting, in your prose writing and could be a precursor to stand-up material!
Writing Comedy for the Stage
Come and join comedy playwright, Caroline Russell-King who has been many times produced in dinner theatre and at Lunchbox Theatre. Find out the difference between a farce a spoof and a sit com. Do you want to learn how to be the next Neil Simon? WARNING fits of giggles may break-out.
The Artist's Way (based on the book by Julia Cameron)
The Artist's Way is the seminal book on the subject of creativity. An international bestseller, millions of readers have found it to be an invaluable guide to living the artist's life. Still as vital today-or perhaps even more so-than it was when it was first published one decade ago. Playwright Caroline Russell-King will lead you through the 12 steps to creating provocative and inspiring work and personal artistic success whether you are a poet, playwright, prose writer or visual artist.
Making Money Writing
From the co-author of Strategies: The Business of Being a Playwright in Canada come and find out how to get paid to do what you love. Join our eight week support group to figure out and implement strategies for making money form your writing. From brainstorming to marketing to cheque cashing, we will help each other to success.
Writing a One Act Play
Come and join comedy playwright, Caroline Russell-King, who has been produced many times at Lunchbox Theatre, Canada's longest running lunchtime one act theatre. Learn how to write your comedy or dramatic opus. Caroline was also a dramaturg for Lunchbox Theatre and Literary Manager, so she knows about play development there! Caroline also has a published trilogy of one act plays and will help you get a plan to yours published and produced as well. Join us we are friendly and inclusive!
New

From Poetry to Plays

Shakespeare was a poet and a playwright. Playwrights used to be called poets! Use your poetry as a jumping off place to create monologues, scenes or even a one act play! We will be joined by a published guest poet.